Walmart MoneyCard is out there to make your life simpler and easier to live by helping you out in the basic routine of your life. If you are looking forward to purchasing at the Walmart MoneyCard, it is important for you to know the basic information about this card including its benefits, pricing, features, etc. In this guide, we are going to answer all your queries regarding Walmart MoneyCard. We are going to tell you everything that you need to know about the Walmart MoneyCard!
Let's start with the basics!
What is Walmart MoneyCard?
Don't focus on the name, because it works just like any other Visa debit card, just more safely and efficiently with a lot of other benefits. Not only at Walmart, but you can use Walmart MoneyCard wherever Visa debit cards are accepted.
Who can get a Walmart MoneyCard?
Anyone who is 18 years old or older is eligible to purchase and use Walmart MoneyCard. Walmart MoneyCard is a prepaid debit card, and the most amazing part about it is that you don't need to have a credit check or bank account needed.
However, minors aging from 15 to 17 can get their Walmart MoneyCard with their parents' permission.
How to get a Walmart MoneyCard?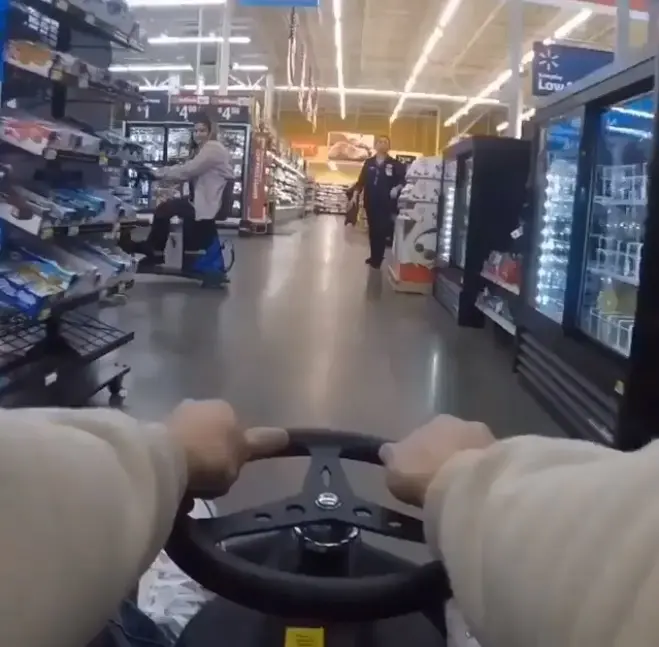 You can always request your Walmart MoneyCard online here. By making the card request online, the card issuance fee can be avoided. Once the request is processed, you will receive a confirmation email from Walmart.
What is the Walmart MoneyCard fee?
Take a look at the table below, and you would know all about the fee and pricing of Walmart MoneyCard:
| | |
| --- | --- |
| Issuance fee | $3.00 |
| Reload fee | $3.00 |
| Monthly maintenance fee | $3.00 |
Other than this, you can check the agreement card that you'd receive on purchasing Walmart MoneyCard.
Now, let's move on to the biggest query of every other person who has a Walmart MoneyCard!
How to Reload Walmart MoneyCard?
We are going to make it easy for you to understand how to reload your Walmart MoneyCard by telling you about the easy and effective ways that you can use to do so. All that you need to do is keep reading!

6 Best Ways to Reload Walmart MoneyCard
1. Direct Deposit
It doesn't matter if it's a payroll check or government benefits, they all can be transferred to your Walmart MoneyCard by direct deposit.
If you don't know what a direct deposit is, let's tell you about it! It is said to be a method by which an employer or a company can directly transfer the payment to the employee/payee without being caught up in indirect payment formalities. It is a more secure and convenient way to send and receive payment. For example, salaries and tax refunds.
In case you are opting for the direct deposit option, using the Walmart MoneyCard, make sure that the employer should inform the bank about the direct deposits approximately 2 days before the official payday. This way, Walmart will be enabled to get in touch with the retailer, transferring the money directly to Walmart MoneyCard.
The best part about the direct deposit is that it is a free-of-cost service. Not just that, but you can choose between depositing all and a part of your check.
2. Rapid Reload
By using the process of rapid reload, you can make a quick and efficient deposit of money in your Walmart MoneyCard. By using this option, being a valued customer of Walmart, you can load between $20 and $1,100 without any difficulty.
To make avail of this option, all that you have to do is a swipe at the register of Walmart or any other associating, participating retailer of your choice.
However, this service of rapid reloading is not free for the customers. You will be charged $3 on each avail of this service.
3. Check Cashing
This is another free service that can be availed very easily. If you are willing to cash your paycheck or government benefit check at Walmart, the funds will be reloaded in your Walmart MoneyCard within no time.
Unfortunately, if you live in New Jersey, New York, or Rhode Island, this service is not for you since it's not available in your region.
Not to mention that if you have a Walmart MoneyCard's mobile application, you can avail of this service at the ease of your home by using the camera of your phone.
4. Walmart Money Center Express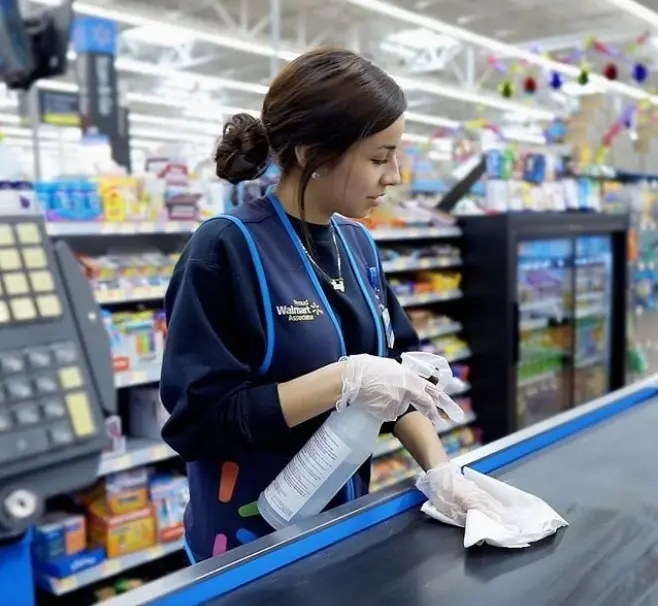 You are highly likely to find these centers located at the front gates of Walmart stores. Usually, this is where the customer help service departments of Walmart are located.
The respective authorities let you add funds to the Walmart MoneyCard that you own. Not just that, but they also allow you to check the balance and transaction histories of your Walmart MoneyCard.
5. Online Transfer
Another easy and effective way of reloading your Walmart MoneyCard is transferring the money online. Thanks to technology! You can now make online money transfers from bank to bank. Although it is a free service on the hand of Walmart, however, the respective bank may charge you for it.
6. Tax Refunds
If you are used to filing your income taxes online, electronically, then you can get the tax refunds back in your Walmart MoneyCard directly without going through any unnecessary formality. This service is free to be availed! No hidden charges like other companies!
To make use of this service, all that you have to do is send your card and mobile contact details to Walmart, and Walmart will take care of the rest by sending you a direct-deposit number that you can later use to fill your tax-forms.
This process will take less time than filing tax refunds via mails.
Here is a video tutorial of how to log in using your Walmart MoneyCard:
Benefits of Using Walmart MasterCard
Now, let's also talk about the benefits that come along with the Walmart MasterCard!
1. Cashback Rate for Online Purchases
One of the considerable benefits of having a Walmart MasterCard is that you can get a 5% cashback rate on every online purchase that you make on Walmart.com.
Not just on online shopping, but Walmart also enables you to get a cashback rate of 2% on every in-store purchase by using the exceptionally amazing Walmart MasterCard.
As if this wasn't enough, you can also get 25 cashback rate on every Walmart-branded and Murphy USA gas stations. Not every other debit card without an annual fee charge offers such services to its customers!
The chart mentioned below shows the percentage rate of how many smartphone users in the US use their device for online shopping. Study it, and get ready to contribute to this ratio!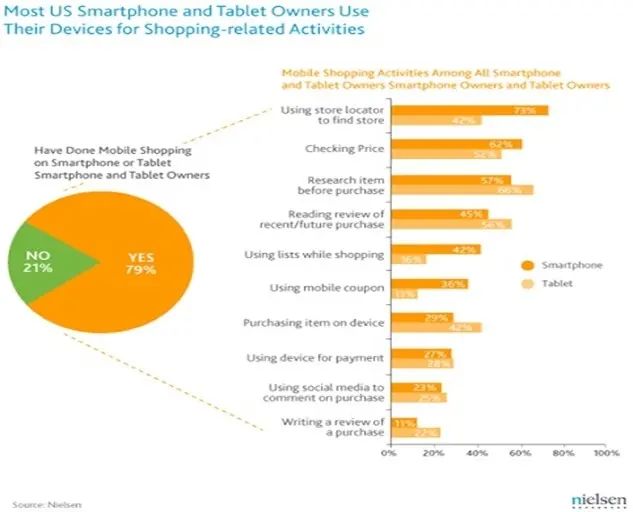 2. Grocery Pickup or Delivery
It doesn't matter if you don't do online shopping frequently, you can still avail the maximum cashback rate offered by Walmart by ordering the groceries online, ready for pickup or delivery, based on what's more convenient for you. By doing so, you can get the cashback rate of 5%.
If you compare this MasterCard with any other that doesn't charge you an annual fee, you will be glad to make this choice!
Below, we have mentioned a graph for you to understand how serious Walmart is about its e-commerce reputation that includes online management too. Study this graph, and see it for yourself how Walmart is certainly the most reliable brand when it comes to electronic sales and management: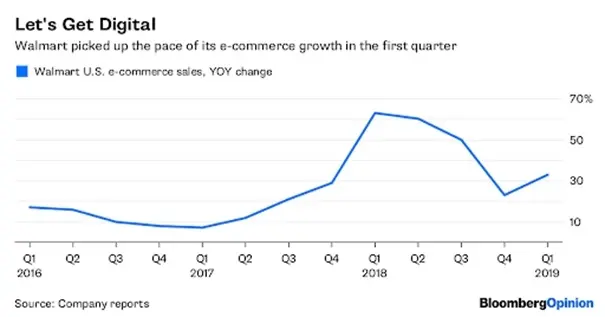 As you can see that in the second quarter, the e-commerce sales of Walmart grew to 40%, taking over Apple.com as the third-largest e-commerce online retailer. That's a success!
3. Flexible Redemption Option
Unlike many, Walmart allows its MasterCard holders to opt for flexible redemption options. The cashback rates never expire. The cash-back is also available just outside of Walmart.
At Walmart, you can always request your cash-back as a statement credit, and that on Walmart.com while checking-out. You can also avail all of this by using the travel services provided by Capital One Travel portal.
4. Good Low-End APR for a Retail Card
The APR offered by Walmart to its MasterCard holders ranges between 17.99 percent and 26.99 percent. If you have quite a few blemishes on your credit card history, you can still qualify for the low APR set by Walmart according to its terms and conditions.
5. Easy Application and Instant Use
Unlike any other card issuer, Walmart enables you to apply for Walmart MoneyCard/MasterCard by just sending an email. Not just that, but the amazing part comes when you get to know that you can also request for the MasterCard issuance by just messaging a text from your mobile device. Your application will be reviewed by the authorities just as it'd be received. On the approval of your request, you will be sent a confirmation email by the respective company. On the allowance and issuance of your card, you can start using it instantly without wasting any more time. Isn't that amazing?
6. Digital Tools from Capital One
Since Walmart MoneyCard has been co-linked with Capital One, you can take advantage of some of the advanced yet best tools offered by Capital One. You can also use the Capital One mobile app to avoid fraud and scam on your card since Capital One has amazing features for keeping your card protected. What else could one ask for? Go and make most of the offer till it lasts!
Conclusion
Through this guide, we tried to inform you about what Walmart MoneyCard is and how it works. We also mentioned some of the benefits that can only be experienced if you have a Walmart MasterCard. Our main focus was on how to reload the Walmart MoneyCard because this is what most people find difficult. We always want to make life less complicated for you!
If you found this guide helpful, don't forget to share it with your friends and family!
Thank you! Happy shopping!