Gacha RPG games are a very unique genre of games that came to limelight in early 2019. With tons of incredibly fun and challenging Gacha games, knowing the best Gacha games to play in 2023 is very important.

Although only just recently developing a large fan base, Gacha games have quickly evolved. Asides from playing them on Android and iOS devices, you can also play them on android emulators on PC. Selecting our top 12 Gacha games for iOS and Android mobile devices was difficult because many of the Gacha games available right now use AFK Mechanics.
NOTE: The games below are in no particular method. Ensure you go through the list to find the best game for you on the list.
BEST GACHA GAMES TO PLAY ON MOBILE 2023
There are thousands of Gacha games on the internet right now. A good percentage of them are online multiplayer games usually with an old RPG combat mechanics where you have to go on quests and complete special missions.
That said, here is our list of Gacha Games you definitely want to play in 2023.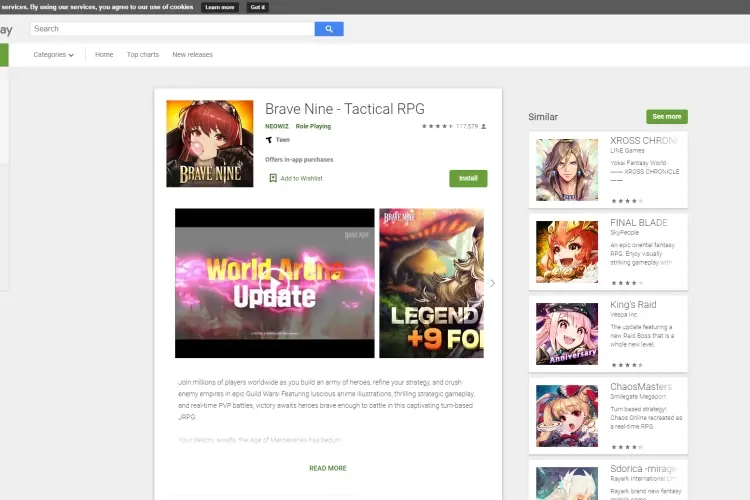 Originally released in 2017 (Korea) and rereleased in 2019 (EU) due to popular demand, the game has one of the biggest player bases among Gacha games.
Brave Nine, which was previously called BrownDust, was developed by GAMFS Inc. and has over 1 million downloads only on Google PlayStore. The gameplay is unique although it also uses the tried and tested hero collector aspect all Gacha games utilize. Brave Nine places more emphasis on teamwork and synergies and even allows teams to bring out a max of 9 heroes which makes it even more competitive than other Gacha games.
The story mode in Brave Nine is quite fantastic with lots of stages to play through. Each of these stages requires lots of teamwork and rune building with an important emphasis on strategy. Asides the story mode, there are also several other PVP game modes that you have to adapt to their respective playstyles.
Each PVP mode has its own rules and rewards with different heroes as a requirement. The main reason for this is because each hero in the game has distinct skills and potential. Finishing a match and getting 5-Star gets harder as you progress in the game.
With regular updates and lots of weekly and monthly events, Brave Nine is a game you want to try out.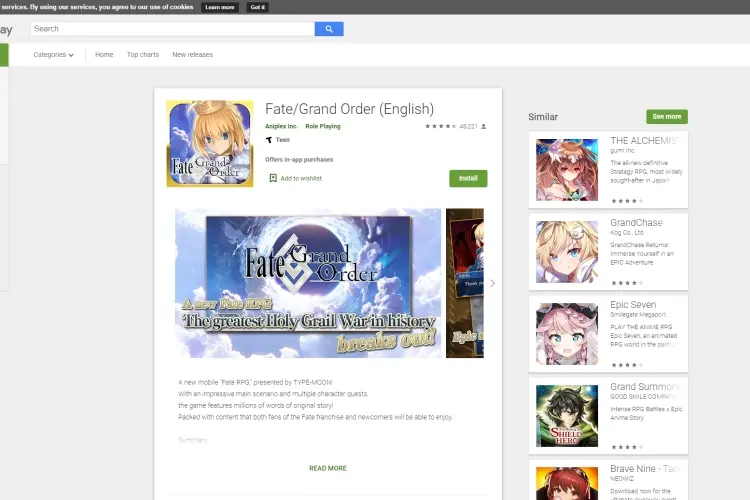 This is a role-playing game fan of anime movies and series would quickly fall in love with. The game even goes on to uses cast from the Japanese popular anime series of the same name.
Developed by Aniplex Inc., Fate: Grand order is currently among the top-grossing RPG games in its genre. With amazing gameplay, a fantastic soundtrack, and a super exciting storyline much of which was adapted from the anime.
In the game, you can summon different units to do battles withs while completing special events to earn in-game rewards. It has little in terms of AFK gameplay but its player base is as loyal as a fan base can get.
The game is not officially available in Europe but you can play it on a mobile emulator on PC. You can also use an app called QooApp to play Fate: Grand Order if you are in Europe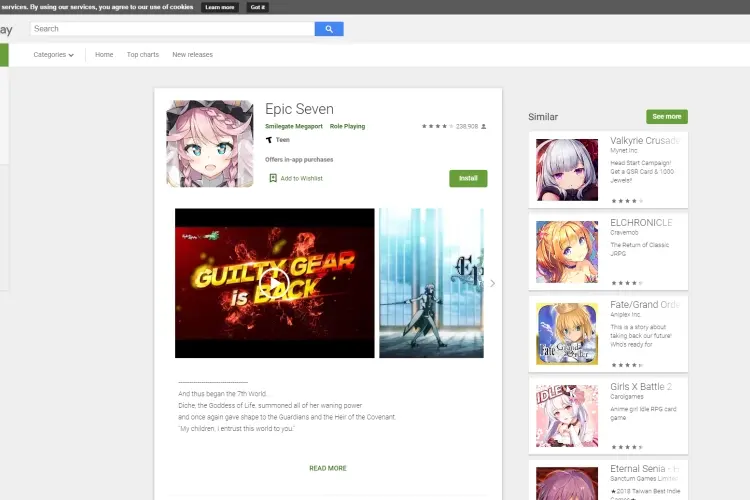 Loaded with CGI and a catchy anime theme, Epic Seven packs loads of fun and challenge for players. The game was developed in 2018 by SupeCreative Corp. and is available on both iOS and Android devices.
Epic Seven features a turn-based strategic hero fights with lots of synergies to engage in and work on for your team. The storyline in the game is superb and there are lots of events and crossovers to keep you playing hours on hours. There is also a very active community to keep you in the loop with everything going on in the game. Each team can only have 4 heroes at a time and there are not lots of chances to summon other heroes while in battle like other gacha games.
One thing you should note is that Epic Seven does not focus a lot on AFK mechanics present in many gacha games. However, this does not take anything from the game.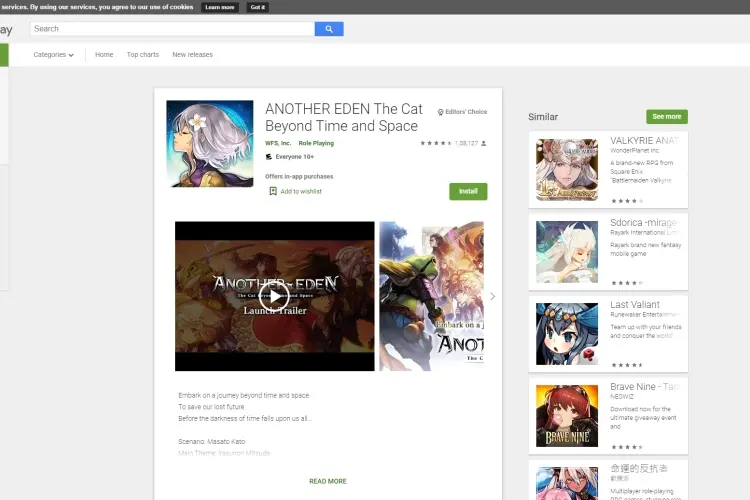 A quick search on the Google PlayStore will show Another Eden as an Editors' Choice RPG game and for good reason.
Simply put, Another Eden is a must-play game thanks to its fantastic story mode and wonderful gameplay. If you are a deep lover of roleplaying games, you would come to love the wonderfully crafted storyline of the game. Asides the good story, the game's soundtrack is also impressive as it sets the tone of what to expect in the game
The game is completely free to play although its Gacha system is not as deep as many of the games on this list.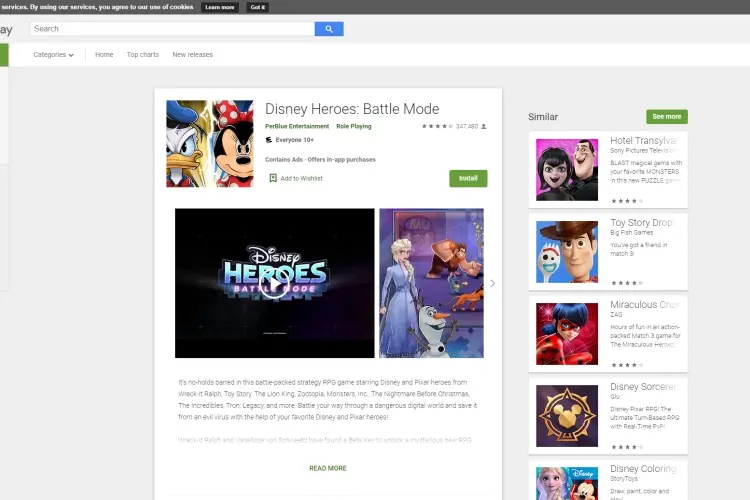 Disney Heroes: Battle Mode is a super addictive gacha game where you get to do battle with many popular Disney characters. One unique element of this game is that you don't necessarily have to be a kid to enjoy the game. Some of its characters were adapted from the hit Wreck-It Ralph Movie.
As you grind the game, you will unlock and collect other characters to your team. For each battle, you can only select a few characters on your team.
This is the most downloaded Gacha RPG game on Google PlayStore. Summoner's War, with over 50 million downloads, is an extremely fun hero collector game.
One thing you should know about this game is that it requires a lot of grinding and progress is quite slow. In fact, it takes more than a year to complete the whole storyline. However, you can speed up your progress by completing events to earn extra in-game energy which is required to play missions. You can also speed up your progress by making in-game purchases although the game is one of the most expensive Gacha games on the internet.
Another thing to note is that there is not much action in the game which means playing against veteran players would be much harder since they have more experience.
Asides the fact stated above, the game is a very good game to have around; especially since you do cannot progress as fast as you want.
GrandChase: Dimensional Chaser - Gacha Game Link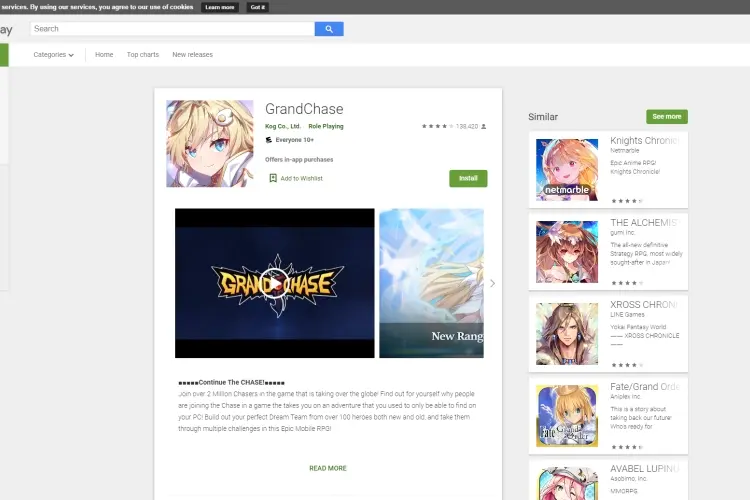 GrandChase was released multiple times in different countries before it was finally released for global users. The game was developed by KOG Studios in 2018 and has over a million downloads on Google PlayStore.
GrandChase was adapted from one of a popular 2D MMORPG of the same name. While these game does not have many elements found in other Gacha games, it still has a lot that makes it worth playing.
There is a rich story mode, lots of heroes, numerous game modes, and a free-2-play model. This is not to say spending money on the game would not make you progress faster, however, it simply means enough grinding would keep you up to pace with pay to win players.
It employs a real-time PvP combat system that is fun and engaging to plays. To progress faster in the game, you need to develop good strategies to truly enjoy the game. If you are very familiar with Gacha systems, progressing in the game would be fast and without stress.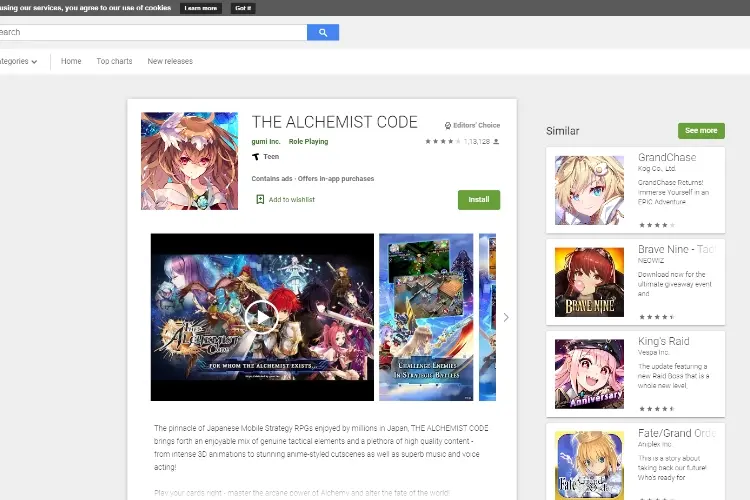 The Alchemist Code is a popular strategy RPG game with a competitive PVP game mode. In the game, you have to deploy your units at strategic points to defeats opponents' teams. There are 50 characters which you can collect in the game each with their strengths and weakness. Asides its online PVP mode, there is also a multiplayer mode where you can do battle with your friends.
The game's graphics, gameplay, and soundtracks make it worth a try.
Azur Lane is one of the best free to play hero collector gacha game developed in China. The game has quite a unique combat style where the most player with the best card composition wins 95% of the time. The battles can be controlled manually or left on Auto for AI. Both are good but do not guarantee the outcome of battles. The outcome of each battle is mostly determined by the type of ships and submarines as well as the weapons equipped on the ships.
Collecting heroes in the game is fun. For every battle, you can only bring six ships and three submarines in a team. Depending on the mode, you have the choice to bring in two teams. Progression in the game is slow and hard with lots of daily quests that can take at least an hour to complete.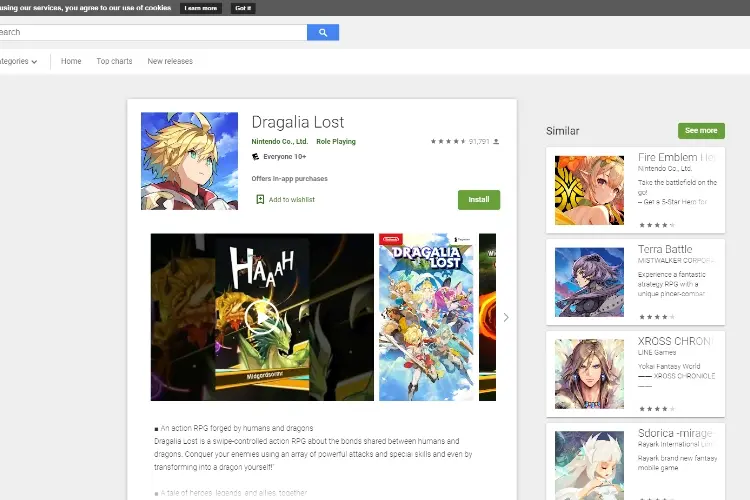 This is the last recommendation from us. Dragalia Lost was developed by Cygames and Nintendo. As you would expect from these two giant game developers, the game is brilliantly made.
The game is an action-based RPG game where you control humans and dragons. It uses swipe controls in combat and employs Gacha mechanics in summoning characters into battle. Each character has different weaknesses which you have to take into account when putting together a team.
Conclusion
These are our top 10 Best Gacha games for Android you need to play in 2023. These recommendations were chosen based on their soundtrack, graphics, combat system, and characters.