Gone are the days when you are limited to seeking knowledge from hard copies of books and resource materials. Nowadays, you can search for meanings and ask questions on vital topics effortlessly.
With the introduction of internet services, the ease of searching for knowledge has become possible. Also, the cyber world has witnessed the design of efficient search engines. One of the search engines that is widely used by internet users is Google. However, Google users have expressed concerns about their safety and privacy while using the search engine. This fear of users birthed an excellent and efficient search engine called DuckDuckGo. Since the introduction of DuckDuckGo, many internet users have continued to inquire about the safety of information and privacy protection.
Summary of DuckDuckGo's Features
The table below summarizes the pros and cons of DuckDuckGo
| | |
| --- | --- |
| Pros | Cons |
| It displays unique content meant for your history and preferences. | It has lesser personalization features. |
| It has built-in features like calculating your trajectory, determining your precise location, filter search results. | It does not block unwanted sites. |
| Ads are not targeted at your search. | It does not filter out your sensitive content. |
| It does not collect and save your sensitive data. | Personalized ads are not available. |
| It does not track your activities. | |
| It blocks all search leakages. | |
| It displays only one search result page at a time. | |
Since your safety and privacy are of utmost priority while surfing the internet, it becomes important to explain how safe it is when you make DuckDuckGo the primary search engine on your device. Therefore, today, I will be giving a detailed review and your safety when you use DuckDuckGo as your primary search engine.

What is DuckDuckGo
DuckDuckGo, also called DDG, is an excellent search engine that performs the same function like Google. By user assessment, DuckDuckGo is considered to be more secured, safer, and protect privacy than Google. With DuckDuckGo, your privacy is protected when searching for content on the internet. It avoids the filter bubbles that personalize search results. An amazing reason for using DuckDuckGo is that it does not monitor and display your search results to other users that search for the same term. The search engine compiles information from over 400 sources. These sources include Bing, Yahoo, Yandex, and lots more. All words searched on the DuckDuckGo is secured with its excellent security and privacy policies.
History of DuckDuckGo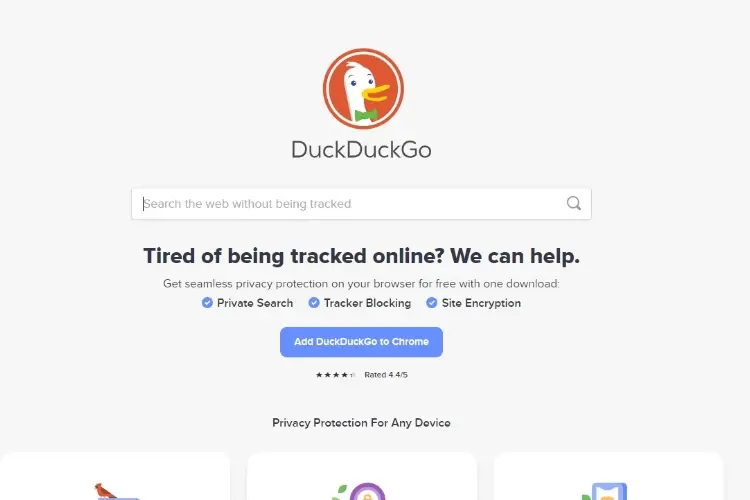 Launched on 29th February 2008, DuckDuckGo is a fantastic search engine with its headquarters in Paoli, Pennsylvania. Currently, the company has more than 93 dedicated employees working efficiently to provide amazing services to its users. Since its creation, DuckDuckGo records more than one billion searches monthly. The number of searches on DuckDuckGo keeps increasing because many people are getting to know about its excellent services daily.
Why People are Switching to DuckDuckGo
In the past three to five years, DuckDuckGo has witnessed an increased number of users worldwide. Many people are using the search engine as they get to know about it. DuckDuckGo has continued to fulfill its promises of providing excellent security services on searched items. The search engine does not track content searched on the platform. You can access its fantastic services through its well designed and attractive app or its browser extension. Both the browser extension and app offers amazing privacy protection services on all items searched by you. DuckDuckGo has elegant browsers that support mobile devices. The browser is secured, safe, and protects privacy. The services of DuckDuckGo is free of cost. Hence, you can search for terms endlessly. DuckDuckGo will always let you know that its products are free of cost because the users are the product.
Furthermore, DuckDuckGo has a business model that is based on advertising ties or affiliated with an organization. Through these channels, it generates its revenue. Also, ads are displayed on the search result page. Unlike Google, the search engine platform does not personalize your search results because it does not track your data.
Other DuckDuckGo Products You Can Consider
The major services that are rendered by DuckDuckGo are search engine services. The search engine of DuckDuckGo focuses on protecting the privacy of its users. This privacy feature is essential for all users because the digital world is bewitched with arrays of criminal activities. Hence, the major reason why internet users prefer DuckDuckGo is higher privacy protection efficiency. Aside from the search engine services of DuckDuckGo, there are some essential services you can enjoy when you use DuckDuckGo. These services are discussed below.
1. Efficient Extension for Chrome
If you are concerned about the security of your data and other vital information, DuckDuckGo has an excellently designed extension that can solve your security challenges. The Chrome extension is easy to install and use. Once installed in your browser, DuckDuckDo makes its services available to you by default in your browser. The data and other vital information entered into the Google Chrome browser are not saved or collected. When you install DuckDuckGo in your browser, it blocks the advertising trackers on the sites you visit or when searching for terms with the browser.
2. Privacy Android App
DuckDuckGo has a well designed and elegant privacy browser that is designed for Android devices. The highly intuitive app is straightforward to use for its old and new users. The DuckDuckGo Android app supports smartphones and tablets that run on Android OS.
3. Privacy iOS App - Link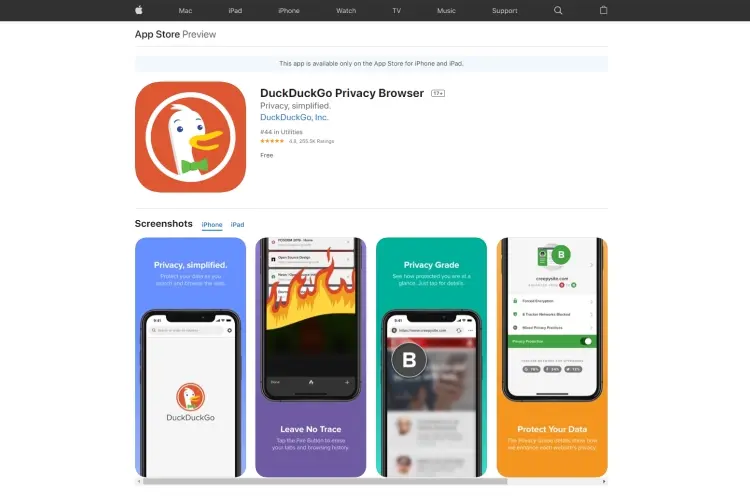 Just as DuckDuckGo has a brilliantly designed app, it also has a fantastic app designed for all iOS users. The app is designed with an attractive and straightforward interface that is easy to navigate. It works perfectly on all iOS-powered devices except the PC.
DuckDuckGo offers its users unlimited access to various social media profiles that appears on the search results. The search engine is a great channel to connect to customer support or author of a specific business and other purposes. DuckDuckGo directs its users to their target platform's profiles without them entering the website or manually searching for them.
5. Unlimited App Searching Activities
With DuckDuckGo, you can search for your favorite apps in the app store s. DuckDuckGo does the searching the same way it does in other search engines. Hence, you save your time by preventing the scouting for the exact app in the app store.
6. DuckDuckGo Bangs - Link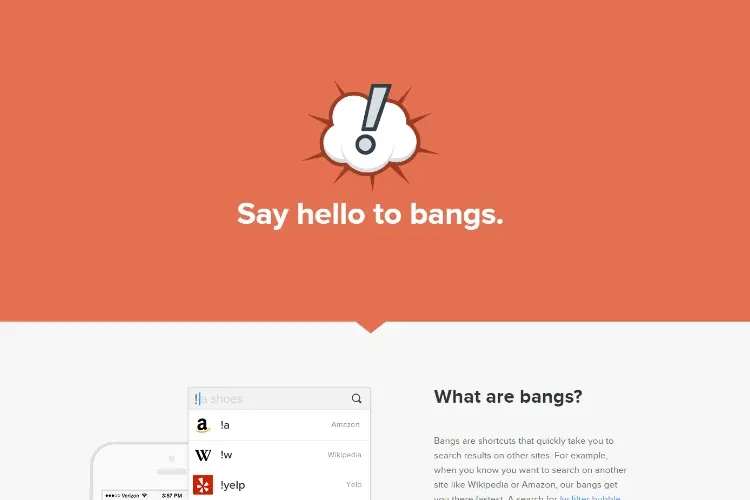 DuckDuckGo has an excellent feature whereby you can search for terms within a given website. DuckDuckGo has a concise list of DuckDuckGo that makes the job easier.
7. Availability of Weather Data
DuckDuckGo offers services whereby you can easily search for weather-like terms. With these services, you can know the current weather condition of a particular town.
8. Keyboard Shortcut
DuckDuckGo allows its users to use keyboard shortcuts to search for terms. This feature is rare in other search engines.
9. Quick Stopwatch
With DuckDuckGo, you can ask for the time at all time points.
10. Password Generator
DuckDuckGo is an excellent search engine that helps its users to generate stronger passwords effortlessly. This feature is essential to prevent cyber attacks from your credentials. However, DuckDuckGo does not store the password generated. The onus is on you to remember the passwords when needed.
11. Calendar and Loan Calculator
With DuckDuckGo, you can get the date of a particular day. It also helps its users to figure out interest rates on loan acquired.
12. Anagram Solver
This feature is important for poets. With DuckDuckGo, you can access built-in poetry writing and solver assistant. With this, your work becomes easier.
13. Amazing Features for Developers
DuckDuckGo has excellent features for web developers. These features include the conversion of content to ASCII texts and many more.
Izzs DuckDuckGo Safe to Use
The safety of DuckDuckGo is mostly asked by new users or people hearing about the search engine for the first time. This question is important because the digital world is consistently witnessing unlimited attacks by hackers and digital thieves. Most search engines make empty promises to users on their safety when they enter content on their sites. The answer to the question of DuckDuckGo's safety is yes. In fact, you will enjoy all the exciting services of the search engine, as described by the company. The search engine is safer and more secured than the available sites that profer search solutions to internet users. DuckDuckGo protects your privacy because all data entered does not leak to another user or its staff. You don't need to create an account before enjoying its searching services. Hence, your personal details are kept secret with you.
Wrap Up

Since its introduction into the cyber world, DuckDuckGo has continued proferring outstanding search services. The platform is designed to cater to the safety, security, and privacy needs of internet users. Today, I have discussed all you need to know about its features and safety. With all the information discussed here, I recommend DuckDuckGo to make your search for items and websites easier. You can try out its searching services to verify the information discussed today.