Technological evolution is one of the greatest things that has happened to humanity. With various technological innovations, you can perform a lot of tasks more comfortably and faster. The technological world came up with the introduction of devices that use machine learning and artificial intelligence to carry out tasks faster. These inventions have greatly reduced human efforts in their daily activities. The fantastic computing and IT industry that has continued to thrive in the computing world is Apple. The computing industry is the manufacturer of devices like the iPhone, Mac, AirPods, and many more.

MacBook is an amazing device that offers excellent services in computing, entertainment, data analysis, and many more. Today, there are lots of wireless devices you can use with Macbook. One of these devices is AirPods. Airpods are excellent devices manufactured by Apple. Since its introduction, Apple has continued to improve on Airpods manufactured. Hence, the company comes up with stylishly designed versions of AirPods with improved features. That said, most MacBook users have always thought about how they can connect their AirPods with their Macbook devices. The steps involved in connecting your AirPods to Macbook is simple and straightforward. Today, I will be telling you how you can easily connect your AirPods to the MacBook device.
What are Airpods
Designed and manufactured by Apple, AirPods is a fantastic innovation that is entirely wireless. The wire-free headphone looks similar to the EarPods designed by Apple. AirPods are desired like wireless chips known as H1 or W1, depending on the version you desire to purchase. The device has an accelerometer for gesture and speech detection, dual beamforming microphones, and other exciting features. AirPods' charging case performs storage and charging functions. The charging case is pocketable. Therefore, you don't have to worry about its mobility.
Features of AirPods
AirPods are devices that come in different versions. Each version of AirPods has got its unique, stylish designs. The Apple device has excellent features that make it elicit superb performance when connected with Apple products. In this section, I will be discussing the fantastic features that make AirPods stand out among other wireless devices that perform similar functions.
1. Zero Wires
One of the most exciting features of AirPods is the fact that it is wireless. With its zero wires feature, you can move it around comfortably and conveniently.
2. Comfortable Fit
The AirPods devices have been designed to perfectly fit the ear regardless of the size of your ear. All you need to do is to unpack, connect it with MacBook, and start enjoying its services.
3. Improved Battery Life
AirPods are devices designed with improved battery life. The device can use spend up to five hours when it is fully charged. It can also use 24 hours on standby.
4. Fast Charging
AirPods are wireless devices that charge faster. The device can become fully charged within three hours. AirPods notifies you when it runs out of power. Then you need to charge it.
5. Easy to Set Up
The AirPods devices are easy to setup. Just one tap is required to start enjoying its services.
6. Instant Connection
AirPods devices connect instantly with Apple devices like iPad, iPhone, Apple Watch, or MacBook. The connection feature depends on the version of the AirPods purchased.
7. Accelerometer
AirPods has an amazing accelerometer that enables the device to play music immediately - you fix the wireless device into your ears.
8. Presence of Siri
AirPods offers faster and easiest access to Siri. Just tap the device twice, and you are right there.
9. Easy Switching
AirPods devices can easily switch between Mac and iOS devices. The device also switches automatically between devices that run on iOS 14.
10. Dual Services
AirPods performs dual functions for its owners. You can use it to listen to music or make calls. It can also be used to change tracks or pause music.
11. Microphone
AirPods has a well-designed microphone that is used to make calls and Siri. With the integrated microphone, you can make calls at your convenience.
Devices That Are Compatible With AirPods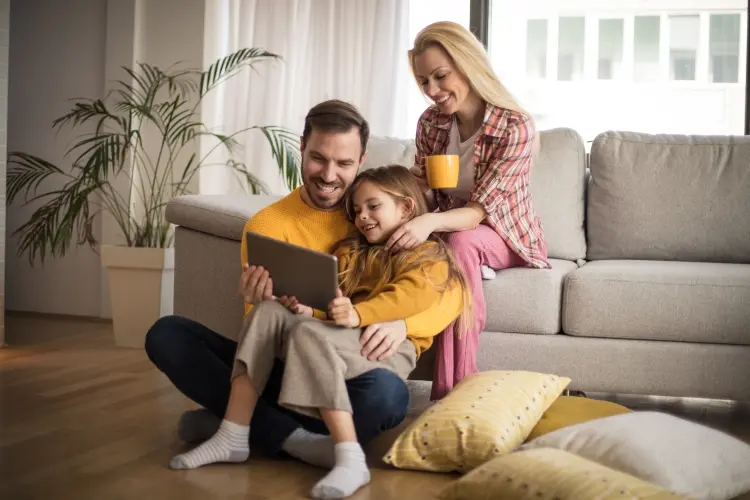 AirPods are devices that work perfectly with all iPad, iPod touch, and iPhone models t hat run with iOS 10 or later. These devices are iPad mini 2 or newer, iPhone 5 or newer, iPad Air models, iPad Pro models, 6th - generation iPod touch, and fourth-generation iPad. AirPods also supports the vast majority of Apple Watch and newly released Apple Watch models.
For Macbook, AirPods works perfectly with all models of Mac devices. The device runs efficiently on macOS Sierra or recent, 2009 version or recently released MacBook, mid-2010 and newer versions of MacBook Pro, and late 2010 to the latest released MacBook Air. AirPods also works effectively in mid-2010 and recently released Mac Mini, mid-2010 or recent version of Mac Pro, and late 2009 and newer version of iMac.
All the features of AirPods are available when you paired the device with the iPhone, iPad, Apple Watch, and Mac models. AirPods devices can also be paired with non-apple devices. However, not all the features of AirPods will be available on it. For instance, you won't enjoy features like bells and whistles.
Summary of Best Ways to Connect Your AirPods to MacBook
The table below summarizes the pros and cons of AirPods devices
| | |
| --- | --- |
| Pros | Cons |
| It has amazing audio quality. | It is a bit expensive. |
| It is stylishly designed. | |
| Its connectivity is easy. | |
| It has long battery life. | |
How You Can Connect Your AirPods to MacBook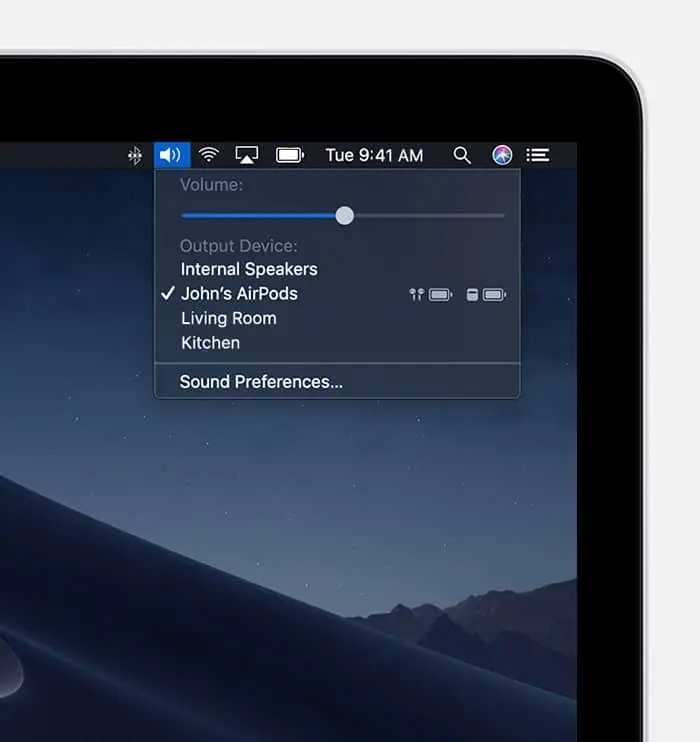 AirPods are devices that comes with exciting features you won't want to miss. The device works perfectly with all iOS powered devices. Despite the versatility of AirPods, most MacBook users struggle to connect the devices with their MacBook. This section will be sub-divided into different segments to understand the basics of connecting your AirPods to MacBook.
Connect Your MacBook With AirPods Previously Paired With iPhone
If you have an AirPods that was previously paired with iPhone, but you purchased a new MacBook and are willing to get it paired with your AirPods, the process you need to follow is much easier than connecting brand new AirPods devices. All you have to do is to maintain the same iCloud account you have on your iPhone with the MacBook. However, if your iPhone has multiple users or created another iCloud account on your MacBook, this connection process will not be possible. Hence, you need to go through another method. The steps you can follow are simple and straightforward. Each step is elucidated below.
1. Turn on your AirPods devices and fix them into your ears. Then turn on the MacBook.
2. Once you have turned on the MacBook, wait for it to load up so that you can access the macOS. Check through the menu bar situated at the right of the screen. There, you will see all settings and active connections of your MacBook. The Bluetooth setting is one of the settings available. It is represented with a small Bluetooth icon. The Bluetooth icon is located close to the Wi-Fi signal. Next, click the Bluetooth icon or the volume icon.
3. Now that you have tapped the Bluetooth icon to check the names displayed if your AirPods' name is there. If the name is there, you will definitely see it. Then it means that your MacBook has already recognized the AirPods. Then hit the devices and try to play a song. If you hear a loud and distinct sound that signifies your AirPods connected, you can be sure that connection is already established between your AirPods and the MacBook.
How to Connect Brand New AirPods
If you have just purchased brand new AirPods and have not connected them to an Apple device, including the MacBook, the steps that will be discussed in this section will be useful to you. The steps are simple and straightforward.
1. Turn on the MacBook and allow it to load to the macOS. Then open the System Preferences on the MacBook. You can do this by tapping the app's icon or hitting the Apple symbol at the top left of the screen. Navigate through the System Preference interface and tap the Bluetooth icon. Bluetooth is important in this setup. Hence, it must always be turned on.
2. Open the lid of the AirPods in the charging case.
3. Check the AirPods case for the button located at the bottom of the case. The button is used for setting up the device. Press the button so that it can turn on the Bluetooth of the AirPods. Once turned on, it will be sensed by devices closer to the AirPods. Check the device until it flashes white.
4. Check the Bluetooth section of the MacBook to see if the AirPods is among the list of recognized devices. You will see a blue icon beside them that tells you to connect. Hit the connect icon. Then play a sound to check if the AirPods are working.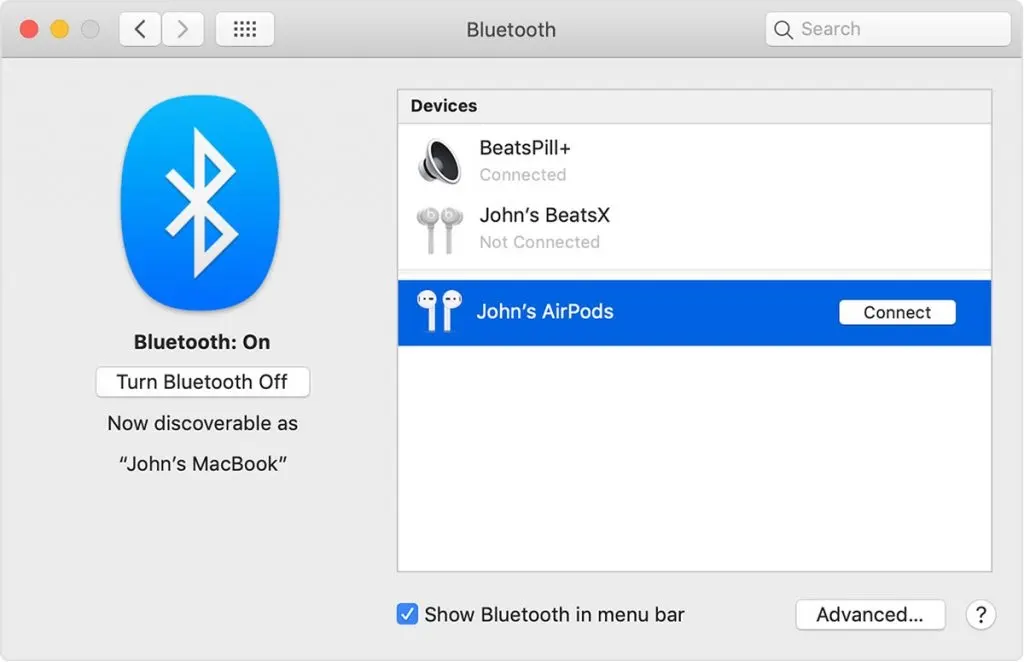 Conclusion

AirPods are devices that make it easier for you to make calls and play music. Today, I have discussed the steps involved in connecting your AirPods to MacBook. Follow the steps strictly to connect your new or old AirPods with MacBook, and you will be glad you did so.